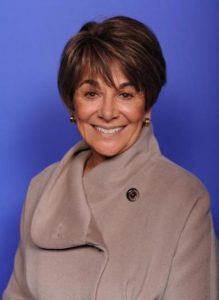 2019 Cities Association President Manny Cappello presented the Cities Champion of the Year Award to Congresswoman Anna Eshoo (CA – 18th District), an innovation problem solver and consensus builder, traits the Cities Association values.  Some of her recent efforts include introducing legislation to:
Fund research related to wildfire smoke,
Restore the role of municipalities in 5G small cell site infrastructure,
And, protect municipal broadband systems.
She has supported legislation to protect communities from air traffic noise.
And, she led efforts to secure $647 million to electrify Caltrain.
We appreciate her work on our behalf.  Watch Congresswoman Eshoo's response here.